Dracula and Frankenstein A-level mix-up 'not disastrous'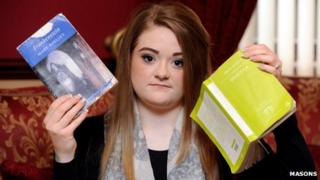 Pupils who were taught the wrong Gothic horror text for their final A-level literature course said the exam went "better than expected".
Abbie Stallabrass, 18, was one of four students at Newmarket College in Suffolk taught Bram Stoker's Dracula instead of Mary Shelley's Frankenstein.
Exam board AQA said it would allow them to refer to Dracula in their answers.
Miss Stallabrass said intensive lessons on Frankenstein had helped and it was "not as disastrous as we all feared".
The students were told about the error two weeks before the exam, and were offered a five-hour class by another teacher on the Friday before half-term.
'Quite surprised'
"He gave us another two-hour intensive session just before Thursday's exam," Miss Stallabrass said.
"If it hadn't been for his teaching, we would not have stood a chance."
The school had informed the exam board of its error and special dispensation measures were put in place allowing the students to "refer to Dracula in part of their responses and their answers will be marked as normal".
However, Miss Stallabrass said she chose not to do so.
"It wasn't what the board wanted, and I just wanted to sit the exam for what it was," she said.
"I actually answered the main question on the paper on Frankenstein, because they were asking about the Gothic setting, and our teacher had really prepared us well on that theme."
After the exam, she said the other students were "quite surprised it was not as disastrous as we all thought it would be".
They will get the results of the examination in August.