Eddie Maher's brother faces no further police action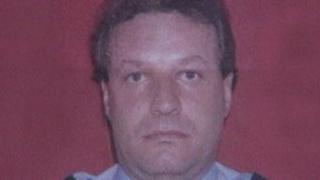 The brother of a man who stole a security van containing £1.2m in 1993 has been released by police.
Eddie Maher, 57, was jailed for five years in March after he admitted stealing the Securicor van from outside Lloyd's Bank in Felixstowe.
His 62-year-old brother Michael, who lives in Torremolinos, was arrested at Luton Airport on Sunday on suspicion of assisting an offender.
Suffolk Police said he had since been released and faces no further action.
Eddie Maher spent almost 20 years on the run in the US before his arrest.
He was detained in Missouri in February 2012, after spending the proceeds of the heist on a number of properties.
Police have never established how Maher, originally from South Woodham Ferrers, Essex, managed to flee the UK after the theft.
While in the US Maher - whose criminal escapades led to him being dubbed "Fast Eddie" - used false identities to build a new life but was eventually caught when his son's estranged wife reported her suspicions to the authorities.
Earlier this year police said they would not be taking any further action against Maher's partner Deborah Brett, 47, sister Margaret Francis, 64, and Paul Muggleton, 54, from Woodford Green, east London, who had all been on police bail after being arrested on suspicion of assisting an offender and conspiracy to commit theft.
But during Maher's appearance at Southwark Crown Court, prosecutors said there were other individuals they wished to speak to about his time at large.