Trimleys: Memorial Hall fire follows Three Mariners blaze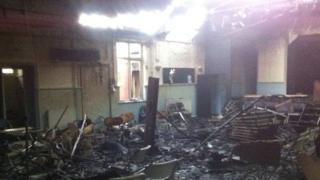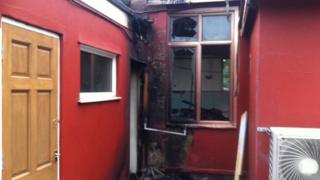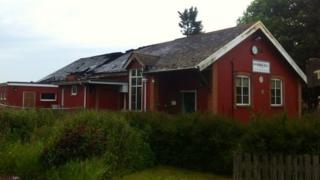 A public hall has been severely damaged by fire in a village near Felixstowe - the second major blaze in the area in as many days.
Memorial Hall, Trimley St Martin has been described as "a complete burnout" as a result of the fire, which broke out at about 00:30 BST.
A barn next to The Three Mariners pub in Trimley St Mary was destroyed by fire in the early hours of Tuesday.
Suffolk Police are treating both fires as arson and linking them.
Officers investigated the latest blaze said it appeared wheelie bins containing empty paint tins were set alight at the side of the building and the flames spread to the hall.
Police used dogs and a helicopter to search the area, but no suspects were found.
Trimley St Martin Parish Council owns the Memorial Hall and had been redecorating it.
'Jinxed'
John Sills, vice chairman of the council, said: "It's a complete and utter devastation and the wooden roof is 60% gone.
"The facility is vital to the village and it's used constantly and the plays that are put on are fully-booked.
"I don't think it's repairable - it's virtually a complete burnout."
Felixstowe Amateur Dramatic & Operatic Society (FADOS) was due to stage a murder mystery play at the hall from 27-29 June.
Sheila Phillips, vice-chairperson of FADOS, said: "I'm very sad and upset because it's the only place in the area where amateur companies can perform, especially as the Spa Pavilion has closed.
"I think this play seems to be jinxed for us, because we staged it at the Spa in the late 1980s and we had to postpone it because they found asbestos at the venue and we had to wait for it to be cleared."
'Pyromaniac'
FADOS said it would look into putting the play on at its FADOS House rehearsal building on High Road, but said it was not currently licensed for public theatre performance.
The Three Mariners pub's wooden barn was set on fire about the same time the previous night, burning two cars and killing ten chickens.
Deborah Atkinson, the pub landlady, said: "I heard two explosions and saw it was our garage and chicken house on fire.
"I think we've got a pyromaniac in the area and it's scary.
"People have to be vigilant as we stand to lose a lot."