LS Lowry nude sketches auctioned in Beccles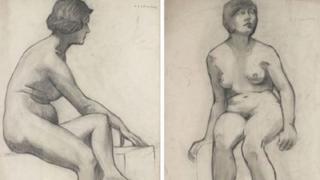 Two sketches by artist LS Lowry have fetched more than twice their expected price at auction.
The life drawings were composed at evening classes in Manchester in about 1916 - the year before Lowry began his famous urban "matchstick" paintings.
The sketches were estimated to fetch up to £5,000 each but they reached £18,100 in total at the sale in Suffolk.
"It was a delight to sell them and let's hope some more turn up," said Philip Stone, auctioneer with Durrants.
'Lowry's finger marks'
The first sketch, a seated frontal pose, went for £5,700, while the other, a side-on seated pose, fetched £12,400.
Both pictures measure about 50cm x 80cm and were done in a sketchpad.
Mr Stone said the sale of the sketches, in Beccles, was a "a pleasure".
"They were drawn about a year before he started 'matchsticks' and that makes them completely different because it's not what people expect," he said.
"Because they were done in a life class, they've got his finger marks all over them; they've got mistakes and they're very interesting."
The sketches were sold by a man from Great Yarmouth who bought them for £3,800 in 1989.
The auction coincided with an exhibition of Lowry's work which opened at Tate Britain in London this week.