Suffolk council underspend 'not sign cuts were too drastic'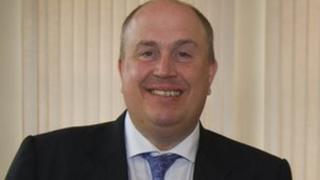 A £3.5m underspend in the annual budget is not a sign that public service cuts have been too drastic, Suffolk County Council has said.
The Conservative-run council planned to trim its £1bn budget by £26m last year but has revealed the actual saving was closer to £30m.
About 2,000 jobs, from just over 7,900, were cut at the council and the running of care homes was outsourced.
The Green Party said the £3.5m "should have been spent on services".
The group's leader, Mark Ereira, said: "This is an administration which doesn't value public services, all it thinks about is the cost of everything.
"People expect the money collected to be spent on services including fixing pot holes, schools and education other than at school."
'Money to save'
The council said the extra money would be put into its reserves.
Colin Noble, cabinet member for finance, said the underspend was "excellent news for taxpayers in Suffolk".
"We're still delivering great services but we are making the efficiencies we need to make in our back office," he said.
"We've got an awful lot of money to save over the next four years and it shows we're on course and know what we're doing."
The council plans to save a further £25m this year.