Ipswich litter bins at head height prompts re-think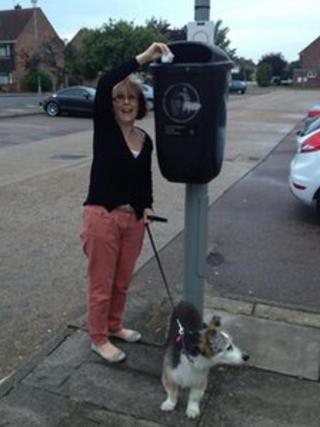 Complaints about litter bins being put on lampposts at head height in Ipswich have prompted a re-think by the council.
The top of some of the bins are over 6ft (1.8m) high.
Ipswich Borough Council said the bins were put up at that height so they did not cover the inspection panels at the bottom of some lampposts.
However, it said officers would look at moving bins that were impractical to use.
Mark Keable, who lives in Ipswich, said: "I drive all over Ipswich for my job and when I noticed one I thought it must have been kids pushing them up, but I've since seen them all over the town.
"I'm 6ft 1in (1.85m) so it's not a problem for me, but if you were vertically-challenged you just couldn't do it.
"I've seen people leaving their rubbish on the ground beneath them."
Max Stocker, a council spokesman, said: "Some of the bins are new and they've been placed above the inspection panels below them.
"There is no point in having bins people can't reach, and it's not every bin, but clearly one bin too high is one too many.
"There is a team on its way to Broke Hall first and then to other roads to do something about it."