Brandon GP Imran Khalid Khan denies girl sex assaults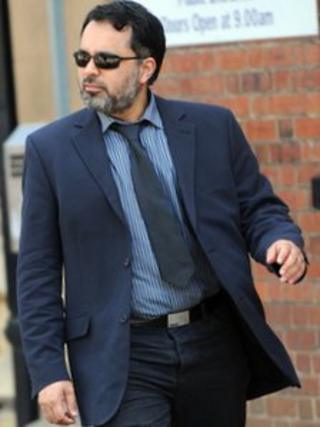 A Suffolk GP has told jurors there is no truth he touched a 12-year-old female patient inappropriately.
Dr Imran Khalid Khan, 40, denies seven charges of sexually assaulting a girl aged under 13 at the Forest Group surgery in Brandon and on a home visit.
He appeared in the witness box at his trial at Ipswich Crown Court and said he would never examine a young girl without another adult there.
The prosecution has alleged he told the girl she had "a lovely body".
After a week of prosecution evidence, Dr Khan, of Osprey Close, Bury St Edmunds, gave evidence in his defence.
Asked by Ian Winter, his counsel, if he would examine a 12-year-old girl intimately with no adult there, he replied: "No".
Asked if he ever did so and whether there was any truth in any of the allegations, he again replied: "No."
Last week, the prosecution told the jury the assaults involved touching parts of the girl's body in an inappropriate way after she complained of abdominal pain.
It is alleged that during the home visit Dr Khan carried out an assault in the girl's bedroom.
Dr Khan, who trained in Pakistan and qualified as a doctor in 1997, had also worked at the West Suffolk Hospital in Bury St Edmunds.
The trial continues.