Animal Noise added to Radio 1 playlist after BBC Introducing support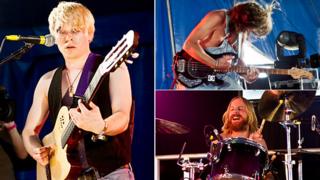 An unsigned band who have been added to the Radio 1 playlist say they have had an "overwhelming" week.
Animal Noise, who are based in Colchester, will have their track Baddow played at least seven times on Radio 1 in the week from 29 July.
The band were told the news just days after they played the BBC Introducing stage at the T in the Park festival.
Singer Josh Sandifer said: "We're doing everything without a manager or a label. Just us sending out emails."
Sandifer grew up near Woodbridge in Suffolk and met Michael Bird and Jack Abbott while studying music in Colchester.
Last year Animal Noise uploaded their "bruised, battered and beaten acoustic dance music" to the BBC Introducing website.
Taxi woe
Since then they have recorded a 6 Music session for Tom Robinson, been played on Huw Stephens's Radio 1 show and become regulars on BBC Introducing in Suffolk, whose presenters nominated the band for the festival appearance and Radio 1 playlist.
"I can't see how a new band can go forward without BBC Introducing and all the opportunities you get with it," Sandifer said. "It's invaluable."
Despite the band's scheduled appearance at the Scottish festival last week being a big opportunity, it came very close to not happening.
The trio were in a people carrier taxi from the airport when the driver was pulled over by police.
"Basically he didn't have the right documents to drive a car that big, so we were stuck" Sandifer said.
"Luckily the traffic officer was really understanding. He hailed down a coach which was passing and blagged the driver to let us on.
"He said 'these guys are in a band, they need to get to the festival' and he was like 'yeah, yeah, come on'."
The band made it to the stage with a couple of hours to spare and their audience had been buoyed by new friends they had made during the coach trip.
"It was a blessing in disguise," Sandifer said.
Being added to the Radio 1 playlist will mean Baddow is played on the station's daytime output, by DJs including Greg James, Sara Cox and Scott Mills.
Lyndsey Boggis, executive producer with BBC Introducing, said the playlist selections were monitored by "music industry executives and radio programmers" from around the world.
"It's a huge opportunity for any artist to be played on Radio 1 daytime shows every day for seven days," she said.