Suffolk A14 car crash caused man and boy's death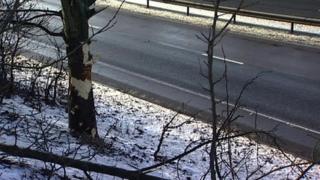 A coroner has recorded that a man and 16-year-old boy died as a result of a car crash on the A14 in Suffolk.
A BMW car in which they were travelling left the road and hit a tree near Bury St Edmunds on 24 January.
The inquest held on Monday at Bury St Edmunds heard that driver Adam Weller, 19, from Weeting in Norfolk, died at the scene.
Passenger Macauley Clements, from Ixworth, was seriously injured and died the next day at Addenbrooke's Hospital.
A 20-year-old man, from Bury St Edmunds, arrested at the time on suspicion of dangerous driving, has been freed from bail with no further charge.