UK Storm: Suffolk man 'disgusted' over power delay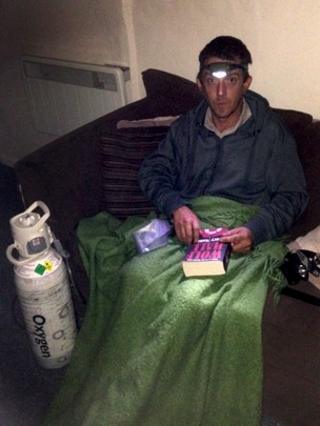 A man whose lives with a painful medical condition has said he is "disgusted" to have been left without power for five days.
David Williams, 42, who has chronic cluster headaches, lost the electricity supply to his home in Dennington, Suffolk, in Monday's storm.
He said his oxygen therapy meant he could not light his home with candles, because it would risk an explosion.
UK Power Networks (UKPN) said it was "sorry" for his "difficulties".
A spokesman said the company had provided the 42-year-old with a generator.
More than 43,000 properties in Suffolk were left without power at the height of the storm.
The UKPN spokesman said nine properties in Suffolk and Essex were still waiting to be reconnected.
Mr Williams, who lives with his partner and three children, said he understood the "difficulties" of being in a "rural location".
'Special circumstances'
"I was told three times there was somebody on site and then I had a call at 22:00 GMT last night to say nobody has been assigned to the job," he said.
"They offered me a hotel last night but how am I supposed to move myself and my family in the pitch black at that time of night?"
The UKPN spokesman said the company had expected to restore power to Mr Williams' home on Wednesday but had found "further local damage".
He said that once UKPN was aware of "the customer's special circumstances", Mr Williams had been offered "temporary hotel accommodation and a visit from our long-term partners at the British Red Cross, both of which were declined".
He added that due to "the worst storm since 2002, there were no spare generators earlier in the week".
"We appreciate how difficult it can be to lose power and hope that our customers can understand the exceptional circumstances of this week's events."