Magpas helicopter medics meet Suffolk birthday boy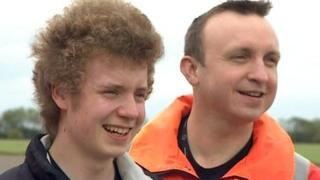 A cyclist who was airlifted to hospital has celebrated his 16th birthday with the doctor who helped to save his life.
Benjamin Haughton, from Hartest near Bury St Edmunds, was running an errand for his mother when he was involved in a collision with a Land Rover.
Dr Simon Lewis, a volunteer with Magpas Helimedix Service, arrived to find Benjamin on top of the car with "life-threatening injuries" in July.
Benjamin said he was "excited" to be reunited with the air ambulance medics.
It was the first time he had seen Dr Lewis and paramedic Adam Carr, at the helicopter's base in RAF Wyton in Cambridgeshire, since recovering from the accident.
He was flown to Addenbrooke's Hospital in Cambridge with a fractured knee cap and a large leg wound and had to have two operations.
Paramedics at the scene were also worried that he might have had internal bleeding.
Dr Lewis said: "It's fantastic to see Ben here on his birthday.
"[He] is doing really well after his accident."
Health workers who volunteer for the medical emergency charity are trained in procedures which are normally only given to staff working in casualty departments, said Dr Lewis.
"I saw Ben on top of a car with severe leg injuries, had to assess him, give him some special painkillers and then sedate him with special drugs," he said.
"It then allowed us to move him and take him to over to the regional trauma centre."
Benjamin was able to return to school after the summer holiday and is back riding his bike although he is a "lot more cautious".
"I'm excited to see the crew and be able to say thank you properly," said Benjamin.
"I met Simon after my operation but I didn't have much feeling because I was drugged."
His mother Ann travelled with her son when he was transferred to Addenbrooke's and accompanied him to the reunion.
"The care that they gave him was phenomenal," she said.
"Without Magpas being there, the outcome could have been quite different."