Suffolk villages without phone lines a week after winds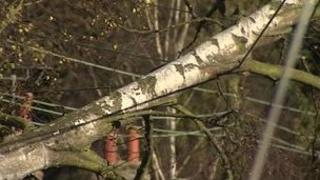 Villages across Suffolk are still without telephone lines more than a week after high winds hit the county.
Cables were brought down on Monday 28 October and customers lost their landline connections.
BT Openreach said it could not provide figures for the number of customers affected, but said it was working to reconnect some "complex" faults.
Customers from villages across the county have contacted BBC Radio Suffolk to say they remain without landlines.
Mike Walmsley, who runs a used car business in Foxhall, near Ipswich, said: "It's paralysed us because we depend on the telephone and the internet to get in touch with customers and update the website.
"They did send an engineer last Thursday, but he said he needed a hoist to get up the pole, but we have not seen him again."
Phillip Turnbull, a farmer at Gosbeck, near Ipswich, said: "Why can't they bring in people from elsewhere like the electricity people do?
"People are trying to contact us for poultry orders, but we're now being told the lines will be repaired by 18 November - but how can any business run with that incapacity?"
A BT Openreach spokesman said: "We are managing resources to keep repair times as short as possible, however, a number of more complex faults are taking longer than usual to fix.
"There are many factors which determine when, and how quickly, we can carry out repairs, such as the amount of damage caused, numbers of people affected and whether our engineers are able to safely access the damaged areas."
BT said people should contact their service providers for information about compensation.