Suffolk beach palm oil pollution: Search for culprit ends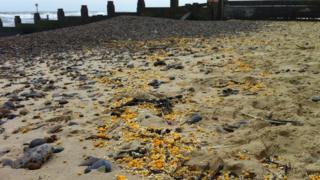 The authorities say the chances are "slim" of prosecuting those responsible for the yellow oil globules that polluted the Suffolk coast last month.
Palm oil washed up on beaches between Lowestoft and Southwold, causing illness in dogs who licked it.
Waveney District Council originally said it wanted the culprit ship to pay for the clean-up.
However, the council said the oil could have come from across the Atlantic and it would cost too much to investigate.
The source of the palm oil was originally assumed to be from an offshore ship.
Councillor Stephen Ardley, who has responsibility for the environment at Waveney District Council, said: "Our research has shown that ships are known to wash their tanks out at sea and the palm oil could theoretically have come from the other side of the Atlantic on the Gulf Stream.
"Our chances of finding the ship are slim and it would cost more to investigate than it has cost to clean it up.
"As it is, Waveney Norse [the clean-up company] has done a great job for about £2,000 and the beaches are back to normal."