Easton crinkle-crankle wall damage a 'real loss'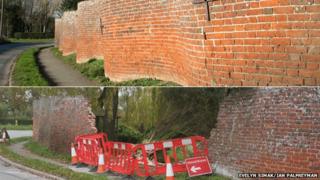 The owner of an unusual listed garden wall in Suffolk says it will cost £20,000 to repair after it was hit by a car that drove off.
The accident happened at Easton near Wickham Market on Friday evening - creating a gap of about 20ft (6m) at the bottom of the crinkle-crankle wall.
The wall, which once stretched 2.5 miles (4km), is thought to be one of the longest in the UK.
The Suffolk Preservation Society said the damage was a "real loss".
Ian Palfreyman, the home owner, said the longest continuous section was now 0.75 (1km) miles.
'Status symbol'
He estimated 6,000 bricks were knocked over and, while some can be re-used, many will have to be replaced using bricks reclaimed from elsewhere.
Mr Palfreyman said: "It's cowardly the way this person has driven off and if they were local they would know the importance of this wall, which would make us even more angry.
"If the driver isn't found we'll have to see if it is covered by our house insurance, but it won't get rebuilt until the spring because it needs lime mortar, so we'll have to put boards up until then.
"There's frustration at the chaos it's caused and it highlights the danger of this road because it's the ninth incident in four years and we'd like a chevron road sign there."
The wall was built for the Hamilton estate, but sections of the wall now belong to various homes which have been built on the land.
Fiona Cairns, director of the Suffolk Preservation Society, said: "It's a real loss to the architectural interest of the area.
"These walls were built for old estates and grand houses and they cost a lot more to build than normal walls, so they were something of a status symbol."
Suffolk Police said it was seeking information to try to trace the vehicle.