Bury St Edmunds horse death: Council found not guilty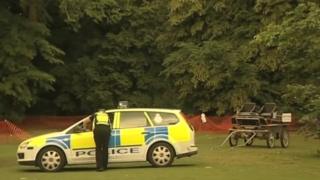 The organiser of an event where a woman was killed by a runaway horse has been found not guilty of a safety offence.
Carole Bullett, 57, was hit by a horse and carriage at Nowton Park Country Fair in Bury St Edmunds in June 2011.
St Edmundsbury Borough Council, which put on the fair, has been cleared of contravening health and safety law by a jury at Ipswich Crown Court.
The man who operated the horse rides had already admitted a similar offence and will be sentenced at a later date.
Ms Bullett died from chest injuries in Addenbrooke's Hospital, Cambridge, the day after being struck by the horse as it bolted into the crowds.
The council was charged with failing to ensure, as far as was reasonably practicable, that visitors to the fair were not exposed to risks to their health and safety.
'Extremely sorry'
The jury returned the not guilty verdict after a week-long trial.
A St Edmundsbury Borough Council spokesperson said: "Our thoughts throughout this trial have continued to be with the family.
"While we have been found not guilty, we are extremely sorry that this happened at one of our events.
"We continue to review our procedures to see whether there is anything more we can do to prevent such a tragedy ever happening again."
The horse and carriage rides were being offered by Duncan Drye, 65, of Bishops Road, Bury St Edmunds.
He pleaded guilty to contravening health and safety regulations and is due to be sentenced at Ipswich Crown Court.