Lowestoft Christmas Day seaside swim cancelled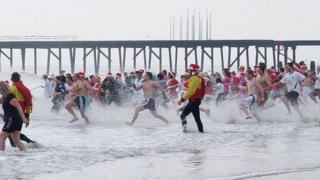 A Christmas Day dip that has been running for 35 years has been cancelled after its organisers pulled out.
The dash into the sea in Lowestoft, Suffolk, has raised hundreds of thousands of pounds for charity.
Organisers Lawrence Chapman and Mark Attenburrow said they had spoken to other groups to get them to take it over, but that had not been possible.
"It is very, very sad and not a decision we have taken lightly," they said on the event's website.
Mr Chapman said he had recently received a promotion and no longer worked in the town, while Mr Attenburrow said new work commitments had also forced him to stop.
"We have been pleased to do this, but now enough is enough," said the pair.
"We have left this difficult announcement as late as possible in the hope that we would find a solution, but there is nothing forthcoming.
"We would encourage people not to take it upon themselves to swim at Lowestoft as the lifeguard cover will not be in place. Rather we suggest joining one of the other swims such as Southwold."
In 2002, the future of the dip was put in doubt after insurers demanded £1,200 to put on the event, but a new firm stepped in to ensure it could continue.
Christmas and new year swims have taken place along many parts of the East Coast for decades, with large events being held in Cromer in Norfolk and Felixstowe.