Lowestoft barrier proposed after flood threat rises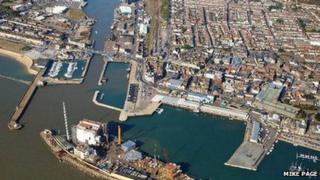 A barrier could be built to protect a town from high water after a study found the chances of local flooding had increased to once every 20 years.
The £18m defence has been proposed for Lowestoft in Suffolk, which was previously predicted to flood once every 1,000 years.
Waveney District Council leader Colin Law said the findings of the authority-commissioned study were "stark".
A report will be drawn up to identify funding sources for the project.
The barrier is one of a number of road, rail and port infrastructure improvements the council has proposed be brought to the town in the next 12 years.
It would stretch from Hamilton Road to the South Pier and the project would include a lock gate next to the Bascule Bridge.
A tidal flood gate, operated when a flood is anticipated, would cross the outer harbour.
The flood risk study found sea level rises caused by climate change could make devastating floods far more frequent.
Mr Law said that while the findings were "stark, by working together with partners, we have an opportunity to deliver a landmark scheme which will safeguard homes and businesses, while further encouraging future investment".