Profile: Former boxer Herbie Hide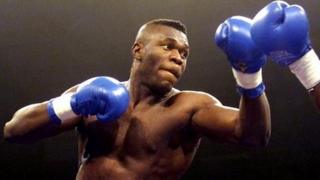 Herbie Hide made as many headlines for events outside of the ring as in it during more than 20 years in the spotlight.
Born Herbert Okechukwu Maduagwu in Nigeria in 1971, Hide moved to Norfolk with his family when he was a child and grew up in the county, where he still lives.
Nicknamed The Dancing Destroyer, he won his first WBO heavyweight title against Michael Bentt in 1994.
Just a month after regaining the title against Tony Tucker in 1997, Hide was convicted of assaulting two police officers in Norwich.
His behaviour, the court heard, had been affected by the deteriorating health of his 11-year-old brother, Alan, who had leukaemia.
Alan had died by the time Hide was sentenced to a community order. Hide would dedicate subsequent victories to his younger brother.
'£30,000 blackmail plot'
Returning to the ring in 1998, Hide beat US challenger Damon Reed in less than a minute - described at the time as the fastest-ever heavyweight victory.
"I've had 10 months off due to my tragedy and I dedicate this win to my brother, my father and my mum," he said.
Later that year, he claimed he was the victim of a £30,000 blackmail plot after two charges of assault were dismissed by a judge.
Hide believed there was a vendetta against him. "I am a peaceful and innocent man and they keep picking on me," he said in 2001.
Several subsequent criminal charges against him were dropped.
Hide wore an electronic tag for four months before being cleared of assault on appeal, and in another case served a week in prison on remand before a kidnap case was thrown out.
'Ends his career'
In 2011 he was cleared of rape after the prosecution offered no evidence.
Despite setbacks in his personal life, Hide pulled no punches in his comments before and after matches.
After defending his title for a second time in 1998, he claimed he "wouldn't mind fighting the likes of Mike Tyson", but in 1999 he lost to Vitali Klitschko, currently WBC heavyweight champion.
BBC Sport reported at the time that the defeat "almost certainly spells the end of Hide's career at the top level".
If anyone could push Hide's buttons, it was Audley Harrison, whom Hide described as fat and "not strong enough to smash an egg with a baseball bat".
In 2003, both boxers were fined over a ringside fracas in the aftermath of a Harrison fight in London.
At 37, Hide won the WBC international cruiserweight title in a bout at the Royal Norfolk Showground, a stone's throw from his home in Bawburgh, near Norwich.
It was his first fight in four years and he was delighted to receive a rapturous reception.
"Next year there'll be a world championship. You won't be getting me with the police any more," he said.
Perhaps he spoke too soon. His candour certainly got him into trouble later that year when he lost a libel case brought by promoter Frank Warren over an "outrageous allegation" made in a TV interview.
Murder charges dropped
Financial problems were a theme. Last year, the father-of four claimed he could not pay £1,515 owed to the courts after an assault conviction because he was "getting older and getting a bad back" and was therefore not receiving fight money.
In March 2012, 25-year-old Tafadzwa Khan died of stab wounds at a party at Hide's home while the boxer was away.
Joshua Burton was charged with murder but in April the case was dropped. Inquiries continue.
Earlier this year, undercover reporters from The Sun secretly filmed Hide arranging a drug deal.
Hide told BBC Look East it was a "manufactured" story and that he was a "vulnerable target".
He initially denied a charge of conspiracy to supply cocaine but later changed his plea to guilty at Norwich Crown Court.
Now he begins a 22-month jail sentence.