Pigs 'shot with crossbow' at Blythburgh farm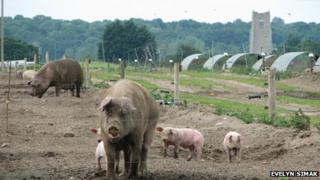 Pigs have been shot and killed with arrows at a field in Suffolk.
Four of the animals were found on Saturday with arrows imbedded in them and two other pigs are thought to have been killed and stolen.
Jimmy Butler, who runs the farm at Blythburgh, said all of the sows were pregnant.
"It's horrendous that they would go to these lengths to maim and kill - the agony those pigs were in was outrageous," Mr Butler said.
Suffolk Police said the pigs had been shot with a crossbow or similar weapon between 11:30 GMT on Friday and 09:30 on Saturday.
Mr Butler, who keeps about 2,500 pigs out in the open, said one of the surviving animals was "very, very poorly".
"We've given them penicillin and cared for them, dressed their wounds," he said.
"We don't know if these animals will end up aborting because of the stress and pressures they've been put under.
"It's absolutely sickening."
He said security at the farm had been stepped up since the attack.
Police are appealing for anyone with information about the shootings to come forward.