Ipswich Borough Council cancels meetings because of lack of business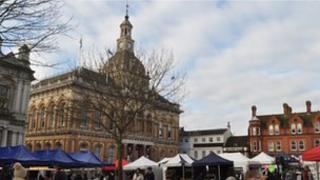 A council meeting was called off after members decided they had nothing "urgent" to talk about.
Labour-run Ipswich Borough Council had been due to gather next Wednesday but was faced with an empty agenda.
The authority, which has now cancelled three of the nine full council meetings this year, insisted its "main business" was unaffected.
Ben Gummer, Ipswich's Conservative MP, said he would have thought there was "quite a lot to talk about".
David Ellesmere, Labour leader of the council, said: "The meeting was cancelled because there was no urgent business to be covered.
"Full council meetings are largely formal and the main business of the authority is conducted in smaller meetings, which are not being cancelled.
"If opposition councillors had tabled motions for discussion then the meeting would have gone ahead, but they didn't."
'More notice'
But Conservative councillors said they should have been given more notice that the meeting was in danger of being called off.
The party said it had wanted to table a motion to talk about housing issues but illness had prevented it being submitted in time.
Councillor Chris Stewart, leader of the Conservative opposition, said: "The agenda papers only come out a week before a meeting and so we feel we should be given more notice that a cancellation is likely.
"If the ruling administration has no business, we could have opposition days to discuss things like economic development.
"We need the opportunity to have open debate and full council is the place for that because that's when more members of the public turn up."
MP Mr Gummer said: "I really would have thought there was quite a lot to talk about such as the development of the Northern Fringe [housing development] and town centre and low-paid workers facing pay cuts."