Paul Mason, former 'world's fattest man' flies to US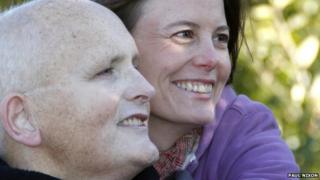 A man once claimed to be the world's fattest has flown to the United States to discuss his weight loss surgery.
Paul Mason, 53, has a consultation with New York based surgeon Dr Jennifer Capla, who agreed to donate her time.
Mr Mason has got his weight down from 70 stone (440kg) to 22 stone (140kg) with the help of gastric band surgery but wants his excess skin removed
"This operation will decide if I lead a normal life or be in a wheelchair for the rest of my life," Mr Mason said.
Mr Mason, from Suffolk, made an appeal for help in May, releasing naked photos of himself to show how he was "stuck in limbo" because he had given up hope of the NHS removing the excess skin.
Since then he has started a relationship with US national Rebecca Mountain, who he will be living with during his six-week stay in the US.
He acknowledged his relationship with Ms Mountain probably would not have happened if it had not been for what he calls a frustrating experience with the NHS.
"I guess it has been a blessing in disguise," Mr Mason said. "The trauma I've had with the addiction side of things, if that hadn't of happened, Rebecca wouldn't have got in touch.
"She initially got in touch to help me. It didn't come into our heads that we'd fall in love with each other."
They now chat daily on Skype, with conversations lasting up to five hours, Mr Mason said.
Mr Mason said his flight to the US was paid for by the Whoopi Goldberg-fronted TV show The View, which he will appear on alongside Ms Mountain.
He was required to purchase two adjacent seats for the flight, his first since the 1980s.
"They just want to find out how we met, the operation and my life," Mr Mason said of the TV appearance. "It will be a stepping stone to get known out there."
By that, Mr Mason says he wants to raise awareness of the dangers of eating disorders and also his appeal to raise money for about four excess skin operations.
Dr Capla has agreed to donate her time but Mr Mason says he has to raise £16,000 to pay for costs including medication and the stay in hospital.
But America is the home of fast food, which Mr Mason says he was addicted to at the peak of his "illness".
Is there a danger the temptation could get the better of him?
"I don't think the food issue out there will be any different to over here as there is plenty of fast food outlets over here," he said.
"The addiction just doesn't go away, it's how you control your addiction and your mindset in a positive way."