'Drunk' inmates in HMP Highpoint cell barricade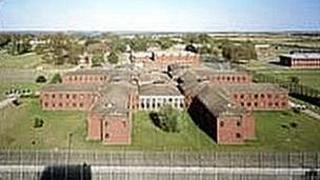 Riot teams were called to a prison where three inmates had barricaded themselves in a cell after drinking "fermenting liquid".
It happened on G Wing at Highpoint prison, in Suffolk, last month, the BBC has learned.
A leaked report said the prison had to call on its emergency commanders, who deployed half a Tornado riot team from HMP Wayland to deal with the inmates.
Two prisoners were taken to hospital for treatment after the incident.
The report by National Operations Unit (NOU), which co-ordinates the national response to prison incidents, said the inmates were "under the influence of fermenting liquid" at the time the barricade was discovered.
The rest of the prison was shut down while the riot team and other "national resources" carried out their operation.
Oranges for 'hooch'
The leaked document said a resolution was achieved through "intervention".
Tornados are riot units equipped to deal with problems at prisons.
A spokesperson for HMP Highpoint said: "An incident of indiscipline involving three prisoners took place on the night of Sunday 17 November.
"Extra resources were deployed and the incident was successfully resolved later that evening. Two prisoners attended outside hospital for examination and treatment.
"We take these types of incident very seriously and perpetrators are dealt with severely."
An East of England prison officer, not based at Highpoint, told the BBC a popular prison brew was a "hooch" created from oranges, which were often taken from jail kitchens.
He said in one recent search of a prison in the East, officers uncovered three gallons of the brew during a search of cells.