Hadleigh bus crash driver recalls 'scary' storm experience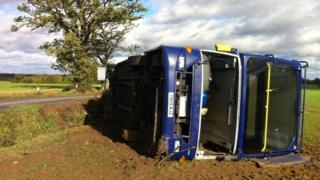 A Suffolk bus driver has spoken of the "scary experience" of his vehicle being picked up and blown over in high wind.
The double-decker was on the A1071 at Hadleigh when its front wheels were lifted up and it ended up on its side in a field during the St Jude's storm in October.
David Cahill, the driver, and one of his two passengers, were slightly hurt.
He said: "When the wind blows like that again, it's going to bring it back to me - there's no doubt about it."
The bus was near Coram Street when its front wheels where lifted off the ground at about 08:15 GMT on 28 October.
An investigation by the bus company Beestons estimated the bus, which was travelling at 25-30mph (40-48km/h), was hit by a gust of wind measuring 69mph (111km/h).
'Smacked my head'
Mr Cahill said: "It picked the front of the bus up and spun it - it was a tidy old gust of wind.
"I couldn't do anything - it sort of sprung me up in the air and I smacked my head on the roof.
"The next thing I remember is waking up and somebody asking if I was alright - it was a scary experience."
Mr Cahill returned to work three weeks later and the injured passenger was treated for minor injuries.
After the accident, the bus company took all its vehicles off the road until the storm passed.
David Burrows, training and development manager at Beestons, said: "There was no blame attached to the driver. As far as we were concerned it was a freak gust of wind.
"I've been in the industry since 1979, but I'd never heard of a moving bus being blown over in the UK.
"There are a lot of elements in play, but now we've had this incident we would be a lot more cautious about sending buses out."