Tesco plan for Lowestoft Tramway pub allowed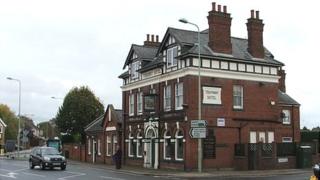 Tesco can press ahead with its plan to close a Lowestoft pub despite objections, the local council said.
The supermarket wants to redevelop The Tramway Hotel in Pakefield as a shop.
Some local campaigners argued that because it was a hotel as well as a pub, Tesco needed change-of-use permission.
Waveney District Council said its legal advice was that Tesco did not need to apply for this permission and it could go ahead and convert the pub.
In 2012, campaigners submitted a 2,500-signature petition to the council opposing Tesco's plans for the 100-year-old building.
Local councillor Peter Byatt said: "We already have two efficient supermarkets [Spar and the Co-op] and, although Tesco has claimed it will bring jobs to the area, I think we will lose one or both of the local businesses and that will be very sad."
'Findings are clear'
Tesco had argued the building was a pub with boarding rooms rather than a hotel, and pubs did not require change-of-use permission.
Waveney said its barrister concluded "the overwhelmingly likely lawful use of the site is as a public house" and that Tesco had a strong argument.
David Ritchie, Waveney's cabinet member for planning, said: "We have sought independent legal opinion on this matter and, although this may be disappointing to members of the local community, the findings are clear."
The Tramway is owned by Enterprise Inns, which leases it to LT Pub Management.
Landlord Terry Hunter, who is employed by LT, said: "There are six letting rooms and last week I was full, so how they can say it's not a hotel, I don't know."
Waveney said Tesco has still had to submit a planning application to put an extension on The Tramway to enable it to convert it to a retail store. It will be considered by the planning committee in January.
A Tesco spokesperson said it would lease the site and create 20 jobs.
"We know from elsewhere our convenience stores give shoppers another reason to stay in the local area and visit other shops rather than using their cars to drive further afield," he added.
Enterprise Inns are yet to comment.