The Darkness: Hope Lowestoft gig could ignite music scene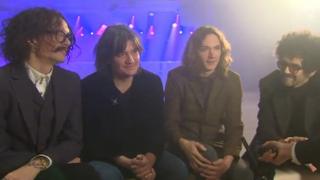 Rock band The Darkness say they hope their debut hometown gig could help ignite a local live music scene.
The band played the first of two nights at the new 820-capacity Aquarium on Claremont Pier, in Lowestoft.
Singer Justin Hawkins said: "It's great that someone's invested in a space that's hopefully going to be on the circuit for touring bands.
"It should inspire youngsters to get down to start rehearsing and start their own bands."
Three of the band members - brothers Justin and Dan Hawkins and Ed Graham - grew up in the Suffolk town.
During their first round of success the band played a "homecoming" gig in 2003 in neighbouring Great Yarmouth, claiming there was no suitable venue in Lowestoft.
Trips to Norwich
Having split up in 2006 and reformed in 2011, they have now finally played in their hometown.
Drummer Ed Graham said: "As a teenager in Lowestoft, you'd have to go over to Norwich to watch a band and often and you'd be unable to get the last train back, so hopefully this new venue will bring bigger name bands to Lowestoft."
Justin added: "Everyone I know was inspired to do music because they saw a gig, because live music is something you have to experience first-hand, so with a bit of luck it will change the Lowestoft music scene."
Dan Hawkins, the band's lead guitarist, said: "We've been on tour for about two-and-a-half years since we got back together and it's brilliant to end this first comeback phase in Lowestoft."