Christmas reindeer built from straw on Suffolk thatched roof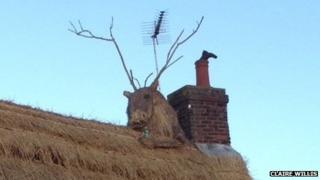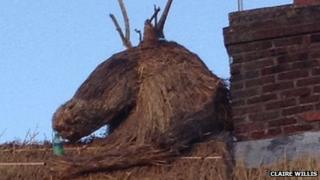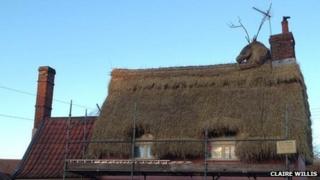 An artistic thatcher surprised a Suffolk couple by putting a festive addition on their roof - a reindeer.
Simon Clarke, from Needham Market, created the reindeer using old straw and sedge while thatching Merv and Di Palmer's cottage in Hemingstone.
"We came home from a Christmas service and there it was. It's absolutely brilliant," Mrs Palmer said.
Mr Clarke added: "We just thought it would be nice to do something seasonal. I might put it up again next year."
'Thrilled with Rudolph'
"It was a good use of the old straw from the back of the house, and it's worked out quite well."
The reindeer's antlers were made from dead branches and secured to the roof and chimney using metal straps.
Mrs Palmer said they were "thrilled with Rudolph".
"When we drove home, we suddenly spotted it and thought, 'What on earth is that?'.
"Our house is in a really prominent position on a crossroad and everyone is stopping to look and take pictures," she said.
"They even put a Wellington boot on the chimney so it looks as if Santa has gone down there delivering presents and the reindeer's just sat there waiting for him.
"He's even got a bottle of beer in one hoof, to sip on while he waits," Mrs Palmer added.
The beer bottle is the only disappointing part of the creation, Mr Clarke said.
"He needs a bigger bottle. It's out of proportion but it was all we had."
Mr Clarke intends to leave the reindeer on top of the Palmer's house until the festive season is over.
"I think I'll take it away with me, then if the right opportunity arises next year, the reindeer might make another appearance elsewhere," he said.