Stoke Ash school with three pupils could be closed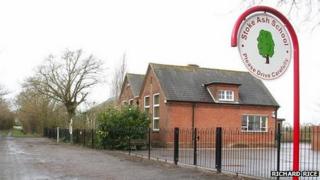 A village primary school which only has three pupils could be forced to close.
Stoke Ash Primary School, in Stoke Ash near Eye, had 20 pupils as recently as October but has seen a drastic drop.
Suffolk County Council said it looked at measures including partnering the school or finding a sponsor, but "all those avenues have come to dead ends" though lessons are continuing.
Phill Wiffing, assistant director for schools, said: "We must now consider the possibility of closure."
The school declined to comment.
'Fall apart'
An Ofsted report published in December found the school to be "inadequate".
The report praised the pupils for being "polite and courteous" but said they relied "too heavily on adult support".
Clare Bardsley decided to withdraw her daughter last month, when she became concerned about stability at the school.
"A lot of the other parents started to take theirs out and then we had a bit of a shock letter to say both of the Class One teachers would be resigning, and leaving at Christmas," she said.
"I wanted to stick it out until the end but things started to fall apart."
About 200 people live in the village.
Badwell Ash Primary School near Stowmarket closed in December, when it had 23 pupils.
Mr Wiffing said: "We really want to support rural schools, to support village communities, but paramount must be the quality of the education those children are receiving."
He said the council wanted to encourage partnerships between schools, so they could share resources and expertise "for the benefit of the children".
A consultation on the closure of Stoke Ash runs until 24 January.