Network Rail appeal over Beccles crossing fine rejected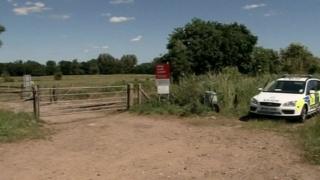 A rail firm has been told a £500,000 fine imposed after a boy was seriously injured in a crash on a Suffolk level crossing could have been much higher.
James How, 10, was in a pick-up truck which was hit by a train on an unmanned level crossing near Beccles in 2010.
Network Rail challenged the level of the fine as no-one had died.
Appeal Court judge Lord Chief Justice Thomas said there were no grounds for overturning the fine imposed in July 2013, and it could have been higher.
Lord Thomas was sitting in the Court of Appeal with Mr Justice Mitting and Mrs Justice Thirlwall.
He said the harm caused by the accident was serious and it could have been worse.
Bonuses cut
"We reject the submission made on behalf of Network Rail that a fine of £500,000 was appropriate only where there had been a fatality."
He said Network Rail's record revealed how prevalent accidents were at level crossings and it was necessary for all the directors to "pay much greater attention to their duties in this respect".
"Bonuses of the directors had been adjusted downwards to a minor - though inadequate - extent in part because of the poor level crossing safety record to which we have referred," Lord Thomas said.
"Plainly the bonuses should have been very significantly reduced.
"If the judge had imposed a materially greater fine, there would have been no basis for criticism of that," Lord Thomas added.
An Office of Rail Regulation (ORR) spokesman said: "While the financial penalty imposed against Network Rail is a matter for the court, no amount of money can ever truly reflect the impact of the life changing injuries suffered by a 10 year old boy in this tragic case."