Sudbury bomb hoax: James Hasler jailed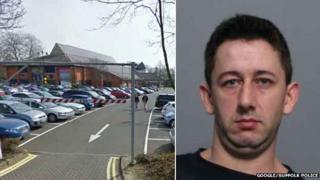 A 34-year-old man has been jailed for throwing a "joke" bomb at his boss at a Suffolk leisure centre last year.
James Hasler, of Woodhall Road, Sudbury, threw a smouldering device made of three red tubes at the town's Kingfisher Leisure Centre.
He was suspended from his job and his manager had to have six weeks of counselling.
Hasler, who admitted placing a hoax bomb with intent, was jailed for 14 months at Ipswich Crown Court.
Police were called to the Kingfisher Leisure Centre on Friday 18 October after reports that what appeared to be a bomb had been ignited.
The court heard it was thrown at centre manager John Scarff while he was in his office as Hasler, who was a cleaner, shouted "I've had enough. I quit".
'Monstrous' joke
Mr Scarff managed to kick it away and it went out. The court heard it looked like dynamite and the manager had been badly shocked.
Jonathan Seely, Hasler's defence counsel, said his client's sense of humour was, at times "monstrously bad".
Giving evidence, his father Stephen Hasler said: "He does like playing jokes and perhaps doesn't realise that some of them are not funny."
The court heard Hasler was arrested the next day and told police "the intention was joke. I did not intend to cause any fear".
Mr Seeley also told the court: "Perhaps astoundingly at this time the defendant was in the process of applying for a pay rise and which Mr Scarff was helping him with."
Police found chemicals used for making fireworks at his house, as well as three cannabis plants.
The court heard Hasler had smoked the drug on a daily basis for 13 years.
He also admitted production and possession of cannabis, for which he was jailed for one month to run at the same time as the hoax sentence.
Judge John Devaux also granted a restraining order banning Hasler from contacting Mr Scarff for three years.