BT Adastral Park homes: High Court rules in favour of council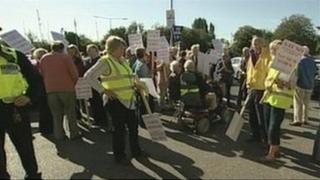 A High Court judge has dismissed legal action which aimed to prevent 2,000 homes being built in Suffolk.
Suffolk Coastal District Council earmarked land at BT's Adastral Park in Martlesham for residential development.
The No Adastral New Town (NANT) group mounted a court challenge to its inclusion in the council's local plan.
The judge said the council had followed planning procedure correctly and ruled against the protest group.
The local plan had been approved by the government's planning inspector last year.
'Deep pockets'
NANT claimed the development was too large for the Deben Estuary which has Area of Outstanding Natural Beauty status.
Ian Kay, from NANT, said: "There were several things that Mrs Judge Patterson said that supported what we were saying... but unfortunately she didn't go so far as to come down on our side overall.
"Having gone this far it would be failing our supporters and donors to throw in the towel at this point.
"We're going to apply for permission to appeal and then the court will decide fairly quickly whether we get that or not."
Councillor Geoff Holdcroft, who is responsible for planning at Suffolk Coastal, said: "We consulted widely and we recognised the importance of the Area of Outstanding Natural Beauty and we took that all into account.
"We need the housing to deliver the economic growth for this district.
"I think [NANT] has got some backers with very deep pockets, but we'll just have to respond to that [appeal] challenge if it comes forward."
Landowner BT would still have to submit a detailed planning application to Suffolk Coastal before homes could be built.