Ipswich 1,000 Face photography project going on display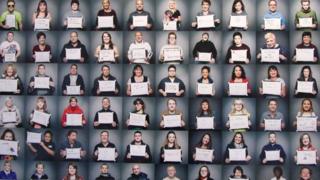 An Ipswich photographer has spent months taking 1,000 portraits of people to show his hometown's diversity.
Gavin King began the project in August, got the final photograph last week and the finished work goes on display on Tuesday at the Town Hall Galleries.
"I was trying to show how diverse the town is - and the results show that what we have in common is that we are all different," he said.
The 1,000 Face exhibition runs until 1 March.
Mr King began the project in August with a self-portrait and has been photographing people at his studio in east Ipswich and during visits to businesses, community organisations and public venues.
"I've lived here all of my life, but we've had a lot of bad publicity recently, with the murders of five women who worked as prostitutes, the unfinished flats on the waterfront and a general image problem, and I wanted to celebrate the town's people.
"I'm delighted with how it's turned out, but it has taken a long time to reach the 1,000 photograph target."
Future plans
The photographer said he had spent about £700 producing the main 5.5m x 2.5m (18ft x 8ft) display of all the 1,000 portraits and half a dozen individual portraits that he has selected.
"I've got no plans to sell the work once this exhibition is over. I'm hoping other galleries take an interest in displaying it - ideally in London," he said.
"We'll also see if I get approached by someone to do something in their town where I could maybe aim to get 10,000 photographs - or maybe do something that shows a cross-section of the whole country."