Mick Squalor to play gig in toilet at Ipswich's Steamboat pub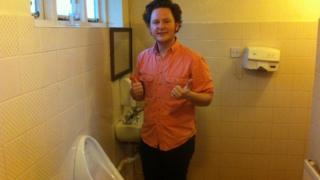 A singer will perform a gig in a men's pub toilet after he said he noticed how good the acoustics were in there.
Mick Squalor said he had been singing along to the band The Pancakes while at the toilet in The Steamboat in Ipswich and realised how good it sounded.
About six people at a time will be allowed in the toilet to watch Squalor, from Manningtree, perform on Friday.
"Enough people spend time in here on a normal night so we might as well glorify it with its own show," he said.
Squalor, who is also frontman for the band Dingus Khan, said he had slight hygiene concerns about performing in the toilet but that the departure from the "usual gig format" would be worth it.
"I'm hoping it will add a surrealistic element to proceedings," he said.
Although no other gigs are planned for a toilet, Squalor said he would like to play other unorthodox venues.
"Every space has a different sound/smell/temperature/etc, which in turn adds to the feel of the room and, in turn, the performer/the way the performance is perceived," he said.
"I'd like to do some one-person audience shows at some point."
Val Bint, landlady at the Steamboat, said a video camera and microphone would be placed in the 5ft by 12ft (1.5m by 3.6m) toilet, with the output beamed into the main room of the pub.
"We'll stage-manage the toilets," said Ms Bint, who described Squalor as "mesmerising".
"The boys and girls will have to share the girls' toilet and we'll take about half dozen people at a time into the gents to watch the performance.
"I think the idea is bonkers, but that's what he's about."