Lowestoft beach hut rent rises provoke anger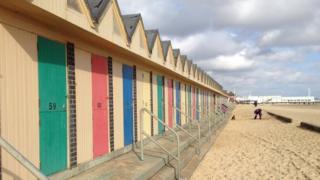 Hundreds of people who use Lowestoft's beach huts have signed a petition to complain about rent rises of 70%.
One man who rented a new hut last year for £200 said he was now facing a bill of £340 for this year's rent.
Sentinel Leisure Trust, which is a charity, said the price rises were "fair" and in line with beach hut rents elsewhere.
It said beach huts were a luxury which it used to help pay for community facilities such as leisure centres.
So far 400 people have signed the petition, calling for the charity to rethink the rent increase.
'Not interested'
Gill Dix rented one of the 36 new plots which were built at Pakefield last year for £200, paid £500 for the hut and £100 to remove it during the winter months.
His bill for this year will be £340 for plot rental.
"This has cost us well over £1,000 and when I queried it with Sentinel, their attitude was that 'you will pay it or someone else will' - they're not interested," he said.
"We are being used as cash cows and a lot of us are pensioners who don't have a lot of disposable income."
Sentinel is a charitable trust set up to run some leisure services in the Waveney district, including the Waterlane Leisure Centre in Lowestoft, Bungay Pool and Gym and beach services in Lowestoft.
It has 350 beach huts in Lowestoft and said there was a waiting list of 500 people for them.
Stuart Everett, managing director of Sentinel, said: "Any price rise is going to be met with concern, so we're not surprised.
"We deliver community work and in order to do that, we need to make sure we earn money off luxury items and our determination is that a beach hut is a luxury item that isn't open to the whole community.
"There's a price rise, but it's still a fair price."