A12 Blythburgh flood defence plans on show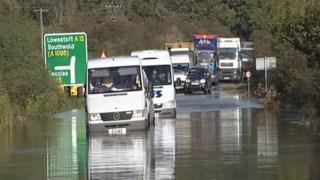 Plans are going on display showing £1m flood defences which will protect the A12 in Suffolk where it crosses a river estuary.
The road at Blythburgh was closed during December's surge tide and also in 2007.
Raised banks (or bunds) will be built for 700yds (640m) on either side of the A12 as it crosses the River Blyth.
An exhibition is taking place at Blythburgh village hall before work starts next month.
The work is being carried out following a year of studies by Suffolk County Council, the Environment Agency and Natural England to model the effects of flooding along the river between the A12 and Southwold harbour.
Councillor Graham Newman, county council cabinet member for roads, said: "The bunds will enable us to safeguard the road at the earliest possible opportunity, while giving us time to investigate any other measures that might offer added protection to the local area."
The main construction is due to last until July, with landscape and planting work due to take place in October.
Work is expected to mean lane closures are required, resulting in one-lane traffic across the river.
Hear more on the BBC Radio Suffolk Breakfast Show.