Tawny owl chick hatches 'three months early' in Suffolk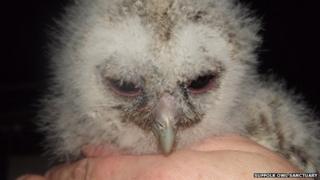 An owl centre says it is concerned mild weather is responsible for the early hatching of a chick handed in to it in Suffolk.
The tawny owl was found in the grounds of the West Suffolk Hospital in Bury St Edmunds.
It is being cared for at the Suffolk Owl Sanctuary at Stonham Aspal.
Andy Hulme, sanctuary manager, said: "I've never heard of a tawny chick at this time of year - you normally don't see them until late April."
The owl charity said 2013 was a bad year for tawny chick numbers, based on what it recorded in its 46 nest boxes across Suffolk and neighbouring counties.
'Tough time'
In 2012, it found 18 chicks in the boxes, but last year there were none which it put down to the cold weather which lasted in to March.
Mr Hulme was worried the chick they had taken in this year hatched at the beginning of the month, which was too early.
"It is a concern because February and March is tough time for tawny chicks because the small rodents they need to feed on aren't plentiful - it's hard enough for adult birds to survive.
"This youngster will be okay because we've got it
"But we're hoping this is an isolated hatching, even though we want to see a lot of chicks this year to make up for last year."
The owl sanctuary said it was too early to determine the sex of the chick, but it had been named Valentine by staff.