'Human vertebrae' found in wood being searched by police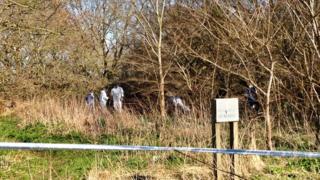 A dog walker says she found what looked like "human vertebrae" in woodland currently being searched by police.
Officers investigating the disappearance of Suffolk teenager Luke Durbin discovered a bone in Ufford last month and are carrying out tests.
A woman has told police that her dog found a human-looking bone, measuring about 9in (22cm), in the same area three years ago.
Suffolk Police said it had received the information and was looking in to it.
The woman, who lives locally and wanted to remain anonymous, said her dog found a bone in the wood.
"My friend said it looked like human vertebrae," she said.
They left it in the wood but contacted police after hearing about the recent discovery.
Mr Durbin, of Hollesley, was aged 19 when he failed to return home after a night out in Ipswich eight years ago.
He was known to frequent the woods being searched.
Police said the site had previously been used as a barracks and a landfill site, so there may be an "innocent explanation" for the bone they found being there.
The last confirmed sighting of Mr Durbin was in Dog's Head Street, in Ipswich, at 04:00 BST on 12 May 2006.
Two men, aged 26 and 41, were arrested earlier last year as part of the murder investigation, but later released.