St Edmund martyr painting recreated by dozens of artists in Suffolk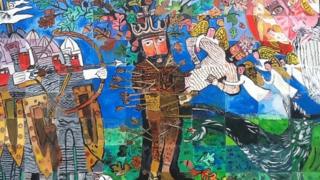 Dozens of people turned out over the weekend to help recreate a painting depicting the death of St Edmund, the former King of East Anglia.
The community art project was run by Tina McCallan at Wingfield Barns, near Eye in Suffolk.
The recreated work is based on Brian Whelan's original painting The Martyrdom of St Edmund, which hangs in the cathedral in Bury St Edmunds.
The new version will be displayed in churches in the area.
Ms McCallan said: "It was great to see the painting develop over the two days and I'm pleased with the result, it looks amazing."
The project was commissioned by David Streeter, a retired vicar from Stradbroke, to celebrate the 100th anniversary of the Diocese of St Edmundsbury, of which St Edmund is the patron.