Felixstowe beach body 'might be ferry jumper'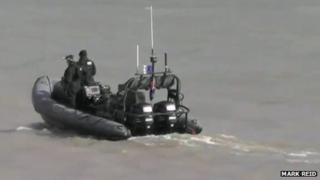 Police are investigating whether a body found on a Suffolk beach is that of an Albanian man who jumped from a ferry while being deported, the BBC understands.
The body, which had been in the water "for some time", was found between the leisure centre and Manning's Amusements at Felixstowe earlier.
Last month there was a major search off the Suffolk coast after two Albanian men jumped from a North Sea ferry.
The search was later called off.
Police said a "quantity of Euro currency" was found on the body discovered in Felixstowe.
It was spotted at about 12.30 GMT and the beach has been cordoned off while investigations continue.
Eleven people were arrested in the Netherlands as part of a "human smuggling" investigation following the incident.
The Border Force confirmed 13 people who had arrived at Harwich by ferry had been refused entry to the country.