Felixstowe Academy's new buildings ready for use at Easter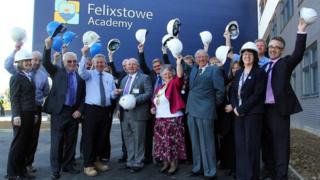 Felixstowe Academy's new buildings, built at a cost of £19m, will be ready for pupils after Easter, it has been announced.
Built on the site of Orwell High School and its old buildings, these will be turned in to sports fields.
The new buildings will cater for 1,800 children and include a theatre-style main hall, arts studio and sports hall.
A decision on what to do with the former Deben High School site has yet to be made by Suffolk County Council.
Orwell High School's existing all-weather sport pitch will be retained.