Lowestoft floods: Properties offered £5,000 grants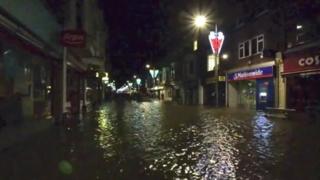 A council has stepped in and offered to pay up to £5,000 to help protect properties in a Suffolk town affected by December's North Sea surge tides.
Streets around Lowestoft's bascule bridge suffered badly in the floods.
Government grants of up to £5,000 are being offered, but businesses first have to pay for the work before reclaiming the money.
Now Waveney District Council has offered to pay for approved works and it will claim the money back.
Flood surveyor
The government's Repair & Renew scheme was launched on 1 April.
Waveney said its policy was to help property owners who did not have the money to pay for defence measures before reclaiming the money from the government.
The council has written to 300 businesses and homes which were affected in the London Road South, London Road North and Station Square areas.
It has offered to appoint an accredited flood protection surveyor and help pay for work needed.
Colin Law, leader of Waveney District Council, said: "We know it may be difficult for a large number of people to come up with a four-figure sum in advance, which is why we are offering to get the work done and avoid the need for large up-front payments."
Property owners have two weeks to apply to the council.