Girl rescued after getting stuck waist deep in mud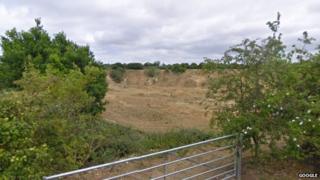 A girl who became stuck waist deep in a "mud pool" while playing with her friends has been rescued.
The girl, thought to be 12, was at the quarry pit in Back Lane, Badwell Ash, on Monday at 19:45 BST when she slipped and "gradually sunk" in the mud.
Dr Andy Mason, who treated the girl for minor injuries, said it took about 30 minutes for fire crews to free her.
"It was a very frightening situation for her," he said. "But she was wonderful - extremely brave."
Dr Mason, who volunteers for Suffolk Accident Rescue Service, said a probe with compressed air was used to "break the seal" of mud which was trapping the girl.
"A huge cheer went up when the fire crews finally released her from the mud," he said.
A spokesperson for Suffolk County Council said people should "take particular care around such locations".