Bentley Case Is Altered pub reopens after villagers buy it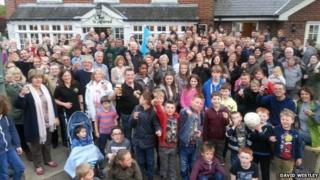 A pub in Suffolk has reopened after villagers formed a community company to raise £230,000 to buy it.
The Case Is Altered pub, in the village of Bentley near Ipswich, closed a year ago.
Bentley Community Pub Ltd bought the building from Punch Taverns in January. About 170 people have invested in the pub in total.
David Westley, the company chairman, said it was a "dream come true" to see the pub reopened.
About 300 went to the pub over the course of Thursday evening.
"We really did have times when we wondered if this would ever happen, but here we are and it's magnificent," said Mr Westley.
"As the pub is owned by the community we will be responsive to customer demand and that way we can ensure we give people exactly what they want.
"People have turned up uninvited to help clean the place - it's fostered an amazing community spirit."