Suffolk motorbike safety campaign: Biker's pledge to mother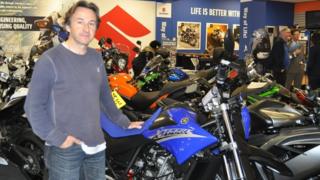 A motorcyclist has given up riding on the roads after being knocked off twice himself and losing his older brother in an accident in Suffolk.
Neil Moss, 50, was killed after a collision near Snape in March.
Aaron Moss, 46, from Otley, stopped riding on roads at the request of his mother but still races bikes on tracks.
He said he supported a BBC Suffolk campaign, backed by police and Suffolk County Council, calling for more Think Bike signs to be put up.
Mr Moss said he had two major accidents near Ipswich while riding on public roads.
The flesh was ripped off his shin in a crash in Debenham in 1984 when he was 16-years-old and in 1999 he shattered his thigh bones in a collision in Henley.
'Hard decision'
Mr Moss said: "I gave up road-biking after Neil's accident, mainly because my mum asked me to as she didn't want to lose another son, but also because I don't want to put any of my family through it any more.
"We do appreciate we're harder to see and these campaigns are always worthwhile because they encourage car drivers and motorcyclists to think about their presence on the road.
"It's the vulnerability that makes biking attractive, but all road users need to look after each other."
Mr Moss said giving up road-biking was a "hard decision", but he would continue to do sports biking on track days and he regularly visited circuits including Snetterton in Norfolk, Cadwell Park in Lincolnshire and Donington in Derbyshire.
Suffolk Police said the number of fatalities involving motorcyclists had almost trebled according to their latest figures.
There were four biker deaths in the year to April last year which had increased to 11 for the year to April this year.
The county council said 37 Think Bike signs would be put up at strategic locations in west Suffolk in the first phase of their campaign, which would be extended to other parts of the county.