Suffolk Wildlife Trust starts hedgehog survey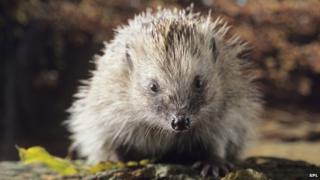 A "citizen's science" survey of hedgehogs is taking place to try to identify how many are left in the wild.
Suffolk Wildlife Trust wants people to record any sightings of live or dead animals on a website.
The trust also wants people to record "negative sightings" of places where hedgehogs used to be seen but can no longer be found.
The UK hedgehog population has fallen from about 30 million in the 1950s to a million today, the trust says.
'Sonic the Hedgehog'
The trust said it had already had 500 reports to the website ahead of the formal launch of the survey.
Michael Strand, trust development manager, said: "Hedgehogs are part of popular culture with Sonic the Hedgehog and Mrs Tiggywinkle and this helps connect people to nature.
"The aim is to get as much information and sightings as we can which will inform our conservation objectives and we can target householders and businesses to encourage them to help hedgehog numbers grow again.
"One of the problems is that, in urban areas particularly, gardens are more enclosed than they used to be and we need to allow hedgehogs to move around more easily."
The wildlife trust said other factors in their decline included the reduction in the amount of grassland, which meant it was harder for the animals to move between habitats.
The long-term objective was to provide more "corridors" between known habitats, which the trust was also already attempting to do for the dormouse, it said.
Loss of habitat and tidier urban gardens also means there was less rotting vegetation for beetles - the hedgehog's main food - to thrive in, experts say.