Ipswich Borough Council probes sex lives of staff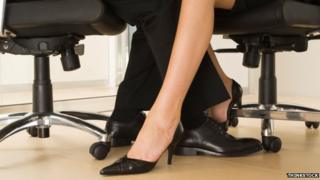 Staff at a Suffolk council have been asked to disclose any "sexual or romantic relationship" which could result in a conflict of interest.
Ipswich Borough Council has asked staff to disclose any encounters, "long or short term", which could affect their impartiality or ability to "act in the public interest".
It said the policy helped protect staff members and the council.
The Unison union said it welcomed the code of conduct.
The council said it was replacing guidelines which had not been reviewed in more than 10 years.
A spokeswoman for the council said that "most personal relationships" were none of the organisation's business, but some were relevant.
Family connections
"There are occasions when there is a risk of a conflict of interest arising between an employee's private relationships, with either the council's interests or the wider public interest," she said.
This includes relationships with other members of staff, councillors or outside contractors who work with the council. Family connections should also be disclosed, the council told staff.
"The council can only manage risks of conflict if it is aware of a relationship," the spokeswoman added.
"The employee is also better protected against allegations of not acting properly or impartially if they have disclosed the potentially conflicting relationship in advance of any complaints or allegations being made."
The council said disclosures about relationships would be made in confidence.
Unison said the relationships question was just one part of the code of conduct which also asked whether staff were members of any secret societies.
David Rowe, assistant branch secretary for Unison at the council, said: "We're in favour of it overall, because we want people getting jobs or promotion on merit, not because of any relationship."
The Ipswich Star highlighted the policy, which was first introduced in March.