RAF Lakenheath rated highly effective by US inspectors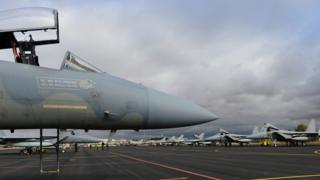 A US airbase in Suffolk that is threatened with closure is "highly effective", say inspectors.
RAF Lakenheath, home to the US Airforce 48th Fighter Wing, has been deemed too far from current combat zones.
Assessment took two years and covered all activities at the base, which was the first to be inspected like this.
Base commander, Col Kyle Robinson. said it was critical for it to get a high rating because the review of its role was under way.
"To say we're highly effective overall...that's huge! We're doing the mission with solid leadership," he said.
'Big part of economy'
Airmen were inspected on their specific jobs and their awareness of military duties, such as accountability, care for colleagues and identifying suspicious behaviour.
The "highly effective" rating was the second-highest possible, the inspection report says.
The US Department of Defense is considering the base's future as part of cost savings exercise.
Moving more forces nearer to the Middle East is one option that could be looked at.
Michael Lostumbo, author of a report to the US government on overseas bases, said Lakenheath costs the US $300m a year.
Forest Heath councillor for Lakenheath Colin Noble said reports of the base facing closure were a "worry" because of its importance to local businesses.
"It's a very big part of the local economy," he said.
American forces have been at Lakenheath since 1948 and the base is home to 4,500 military personnel and 2,000 civilian staff.