Commonwealth Games Queen's baton comes to Suffolk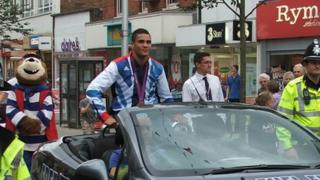 Lowestoft boxer Anthony Ogogo will be joined by several Olympians as the Queen's Baton visits Suffolk ahead of the Commonwealth Games.
The baton on Monday with stops in Lowestoft, Newmarket, Bury St Edmunds and Ipswich.
Mr Ogogo will arrive with the baton at Claremont Pier in Lowestoft at 07:45 BST.
The day will include appearances by Olympic gymnast Beth Tweddle and East Bergholt Paralympian Zoe Newson.
After Lowestoft, the baton will head to Newmarket's Rowley Mile racecourse, Bury St Edmunds' Leisure Centre, Ipswich's Northgate Sports Centre, with an evening of music and sporting entertainment in Christchurch Park.
Mr Ogogo will be the official baton bearer in Lowestoft, while handballer Louise Jukes will have the same role in Ipswich.
Miss Tweddle and Paralympic swimmer Rachael Latham will be in Bury St Edmunds and at both events in Ipswich, with sitting volleyball player Claire Harvey joining them during the day.
Ms Newson will start a fun run in Christchurch Park.
The Commonwealth Games' opening ceremony is in Glasgow on 23 July and the event runs until 3 August.