Felixstowe yacht collision: Fears woman in sunken yacht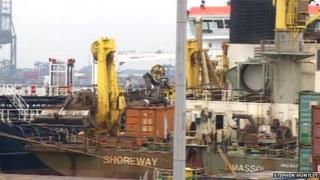 A woman missing at sea since a yacht collided with a dredger off the Suffolk coast could be trapped in the sunken wreckage, it is feared.
The yacht crashed off Felixstowe at about 13:30 BST on Sunday, with the woman's husband and a dog rescued from the water by the dredger's crew.
Search-and-rescue teams hoped the woman was wearing a lifejacket and would be found on the "flat, calm" sea.
Suffolk Police said the yacht was at a depth of 12m (39ft).
It is now co-ordinating the search, with a dive team from the fire service due to search for the vessel, the woman and a second dog.
The anticipated time-scale for this new search is not yet known, a police spokesman said.
'Nothing on the surface'
By 12:30 on Monday, the woman had been missing for 23 hours - the limit for the survivability of a person in the sea in normal conditions, said Capt Rod Shaw of Harwich Lifeboat.
He said the "main possibility" was that she was trapped in the wreckage, with police and the Harbour Authority taking over the operation.
"There is certainly nothing on the surface," he said.
"The sea conditions are perfect.
"We've been picking up balloons and tin cans and debris at sea; if there was a person or dog at sea we would've found them."
A search-and-rescue helicopter from Wattisham in Suffolk and two Harwich lifeboats searched for her on Sunday, with a Coastguard team scouring the shoreline.
Another helicopter and lifeboats from Harwich and Walton had joined the search earlier on Monday.