Missing Luke Durbin: Ufford woods bone-find not human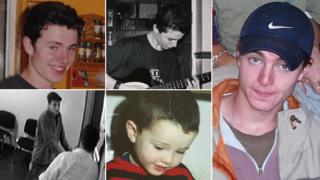 A bone thought to be linked to the disappearance of a Suffolk teenager eight years ago is not human, officers have confirmed.
Detectives involved in the search for Luke Durbin, 19, discovered a bone in woodland near Ufford in March.
Police said "detailed tests with two separate experts" revealed the bone to be of animal origin.
Mother Nicki Durbin said she suspected the bone was unconnected to Luke as the area had already been searched.
Luke went missing in May 2006 and was known to frequent the wood.
Det Supt John Brocklebank, from the joint Norfolk and Suffolk major investigation team, said: "It has been established that the bone was from an animal and most likely a deer.
"This was always going to be very difficult to establish as we are dealing with a very small fragment of bone and it was essential that we sought the expertise of specialists in order to move the investigation forward.
"Luke's mother, Nicki Durbin, has been kept fully informed throughout the testing process and understands that these have been necessary and appreciates everything we have done."
Ms Durbin, who had pushed for greater focus into her son's disappearance earlier in the investigation, added that she "could not fault" the way police have handled the investigation.
The last confirmed sighting of Mr Durbin was in Dog's Head Street in Ipswich at 04:00 BST on 12 May 2006.
Two men, aged 26 and 41, were arrested earlier last year as part of the murder investigation, but later released.