Hadleigh girl's death leaves 'enormous hole' for family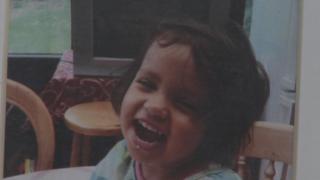 A three-year-old girl who died when she was hit by a car has left an "enormous hole" in the lives of her family, her father has said.
Rosa Simon was on her scooter in Canterbury Gardens, Hadleigh, when she was hit by a car on Tuesday.
Her father, Paul Simon, said his wife Sheeba, a nurse, tried to resuscitate their daughter.
"Even we could see from the blood, the injuries, there was no real hope," he told BBC Look East.
Mr Simon said Rosa, "in one of those wonderful heady moments that three year olds have", was racing around the cul-de-sac on her scooter.
He ran to her aid with his wife after hearing a "big crash".
"We believe she died instantly," he said.
Mr Simon, who works for Babergh District Council, paid tribute to the support of his neighbours and the work of the emergency services.
"The support and care of neighbours and friends have lifted us through a very difficult night," he said.
Rosa was taken to Ipswich Hospital, where she was pronounced dead shortly after.
"She leaves, for such a small person, an enormous hole in our lives," Mr Simon said.
"I believe, and my wife believes, that knowing her for those three-and-a-half years enriched our lives.
"We're better people for having known her."
Suffolk Police said the driver of the car was treated for shock.